This vegan spicy lemongrass noodle soup hits all the right spots when it comes to a flavourful soup. The broth has a hit of citrus from lots of lime juice, sweet and tanginess from tomatoes, a bit of crunch and savoury sweetness from celery, spice from Thai red curry paste, and a hit of earthy and bright lemongrass. I feel like it's reminiscent of veganized bun bo soups I've tried, mostly because of the lemongrass and the spice, but it's not really the same dish at all.
I've made this soup at least half a dozen times, generally eye-balling and throwing in whatever veggies I have in the fridge. Sometimes it's kale instead of spinach, or bok choy instead of celery, but either way, the stars of the show here are lemongrass, lime, and curry paste. This is not Eddie's favourite, mostly because the last couple times I've made it I went really heavy handed with the tomatoes, but he eats it happily nonetheless.
Sometimes I poke fun at Eddie for being resistant to certain veggies. He's not a fan of green beans or broccoli, but he doesn't seem to mind veggies I thought he'd hate like spinach or asparagus. He even seems to enjoy bok choy and kale every now and then, which is a pleasant surprise. As much as he is hesitant to certain foods or dishes, he's usually a pretty good sport about eating whatever it is I make.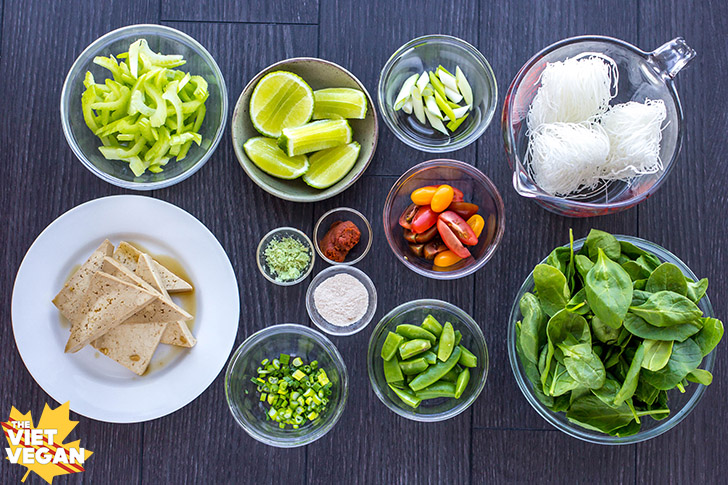 This past weekend, we went to our first wedding together, and it was actually so nice. The wedding was beautiful and I didn't really know anybody other than the bridal party, so I was really happy to have Eddie with me to talk to. We both got a vegan meal but it was last minute so I'm not sure if the caterers were prepared for it. However, I never am optimistic about vegan wedding food—I don't blame the organizers/bride/groom—it's just caterers who have no idea how to make a vegan main that isn't just grilled vegetables or a slab of bland tofu. Don't get me wrong, grilled veggies are delicious, but not satisfying. And fruit for dessert at a wedding—while delicious and something I'd eat normally—is not a good representation of wedding dessert food.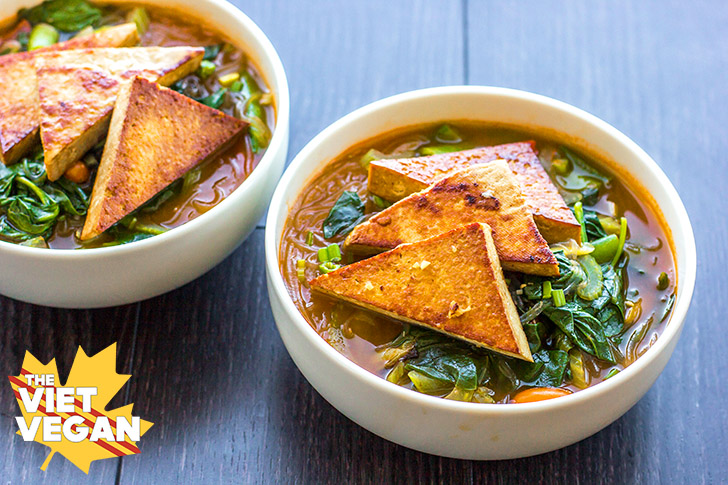 On the ride home, Eddie and I discussed what we would do at our wedding one day. On one hand, the stress and pressure of planning a wedding is enough to make me just want to elope with a handful of friends and family. But on the other hand, I kind of want to have a vegan wedding to show our friends and family that vegan food can absolutely be stunning, delicious, and gourmet. People still seem to not understand that vegan food can be full of protein and flavour. C'mon people! Have you never seen my instagram feed?! I'm so grateful that Eddie is open to the idea of a vegan wedding, because the idea of any being dying and plated to celebrate two people committing to each other is really heartbreaking for me.
But that's a bridge I won't be crossing just yet.
Anyway, in this week's quick video, I show you guys how to pull together this quick vegan spicy lemongrass noodle soup (that is if you've marinated the tofu ahead of time) for a tasty dinner that uses tons of veggies and packs a ton of flavour!
Enjoy!