5 Minute Lemon Raspberry Frozen Yogurt using only 4 ingredients – it's healthy, sweet, delicious and meant to be in your tummy!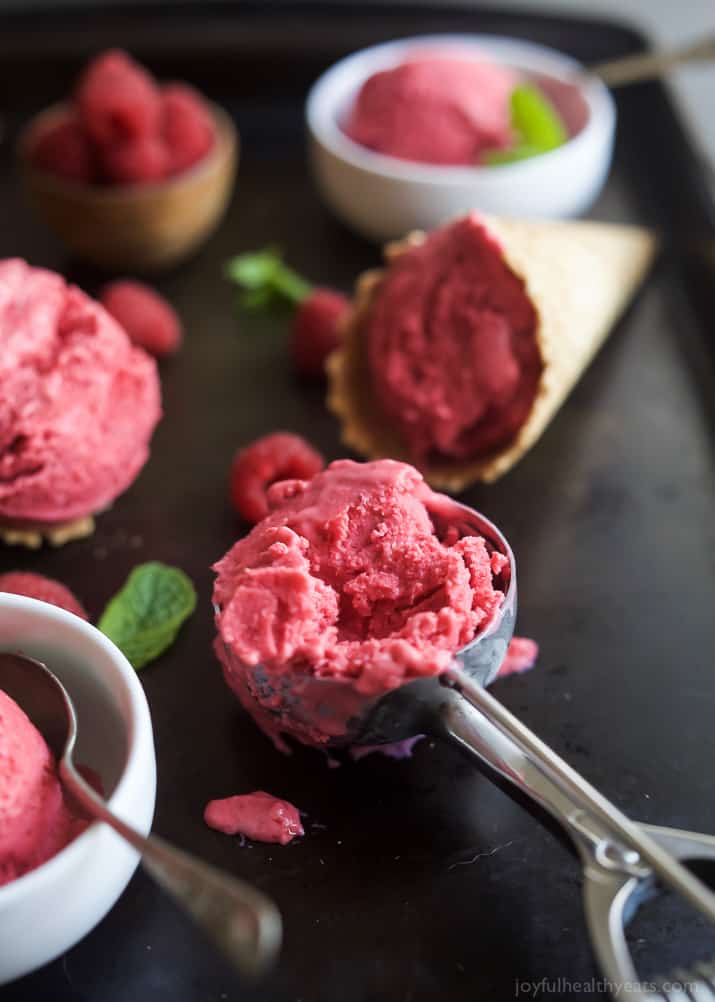 5 Minute Lemon Raspberry Frozen Yogurt using only 4 ingredients – it's healthy, sweet, delicious and so easy to make!
Do you ever get sucked into aimless searching on the internet? It's like a vortex!
There are so many places to look. You can open endless tabs, hop around where ever you want – sports, Facebook, recipes, home searches (oh and now I want to go to fiji) … it's information overload and allows a person that may not have A.D.D. to act like it … bouncing around from one site to another!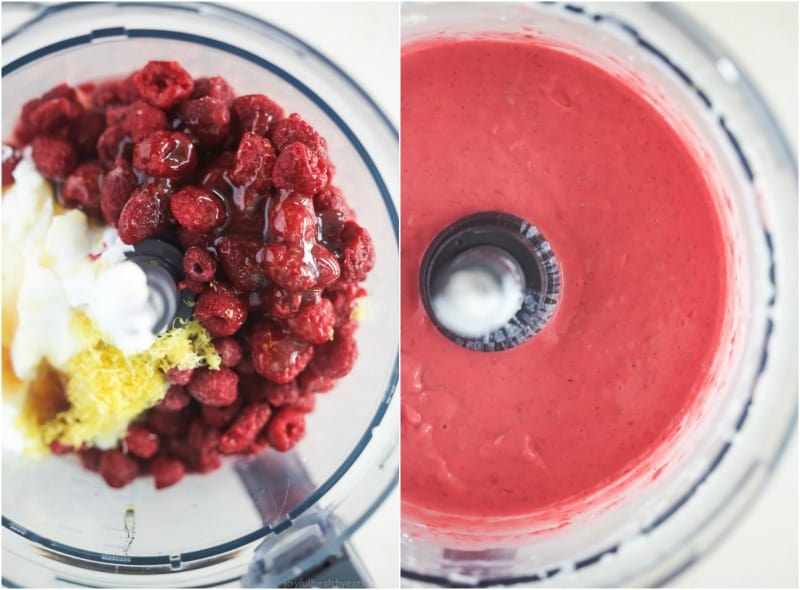 Why do I say this?
Because I got suckered into the internet vortex! We are going on a Wine Country trip with friends at the end of June, so naturally we are trying to find a place to stay. Turns out it's not as easy as you'd think, apparently it HIGH season so every place is booked or the prices are jacked through the roof.
Sigh …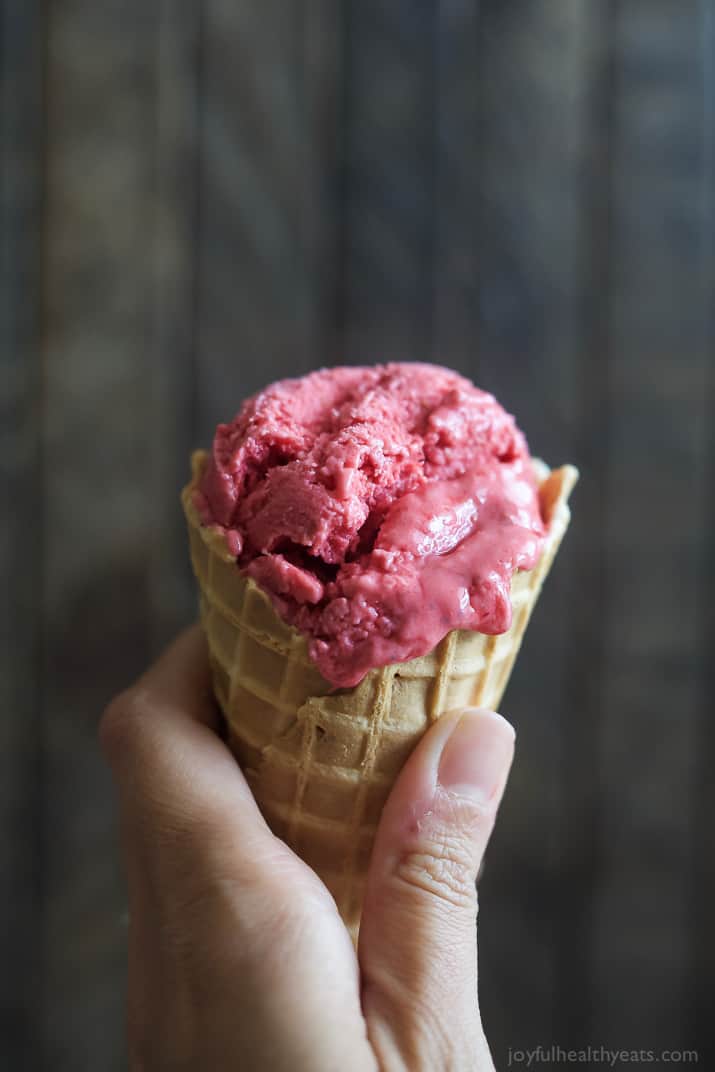 I just keep looking, hoping, praying .. we will find something cute, quant, in town, and at a reasonable price! So needless to say, every time I get on the internet to work on my blog I get distracted … Big Time!
First I go to hotels.com then homeaway.com and then I start looking at picture after picture …. send help!
Luckily the only thing that is keeping me sane during this intense search is the fact that I'm going to Wine Country! Eek!!! Cannot wait!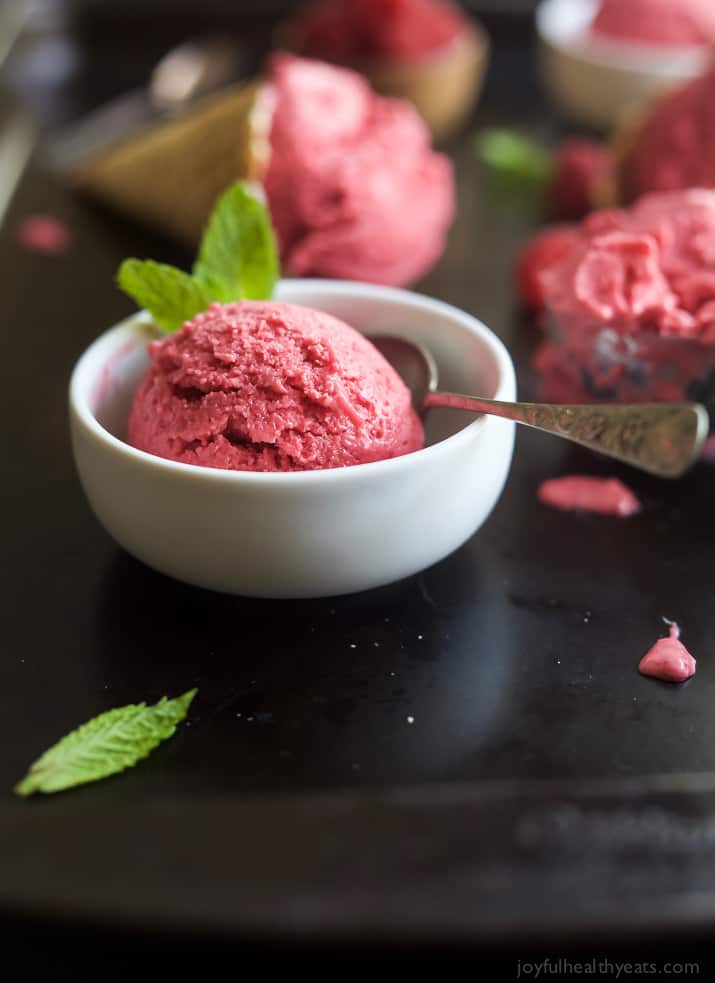 I also can't wait for you guys to try out this Healthy Lemon Raspberry Frozen Yogurt!
Yup it's that time of year again… when swimsuits will be the only thing you wear all day and you'll alternate between popsicles or frozen yogurt to keep you cool in the hot summer heat. (or maybe that's just me because I live in HOUSTON which is horrendously hot!)
We are addicted to Fro-Yo over here. It's light, incredibly refreshing and on the dessert scale ranks more on the healthy side! Woohoo!
Plus it's crazy easy to make at home! Like literally 5 minutes ya'll. You throw everything in a blender or food processor, blend until smooth and you're done!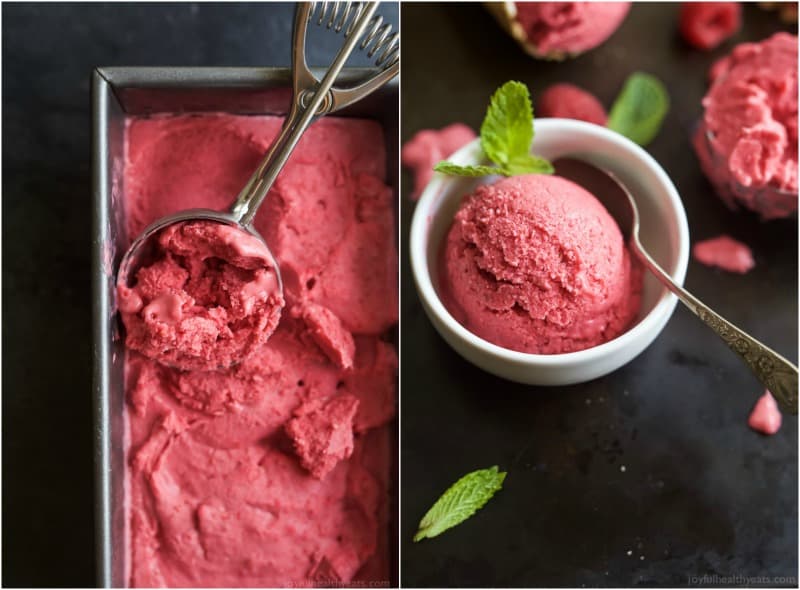 This Lemon Raspberry Frozen Yogurt is sweet, tart, and loaded with fresh berry flavor! Me and little man devoured these cones after I shot the photos….  and maybe licked the pan afterwards too! Shhh….
Guilt free. Incredibly Satisfying and pure perfection in the summer heat! You need to give this Frozen Yogurt a try. I guarantee you'll be running your own Fro-Yo shop out of the house after your first bite!
Bon Appetit sweet friends (get it … SWEET friends… haha) Ok, bye!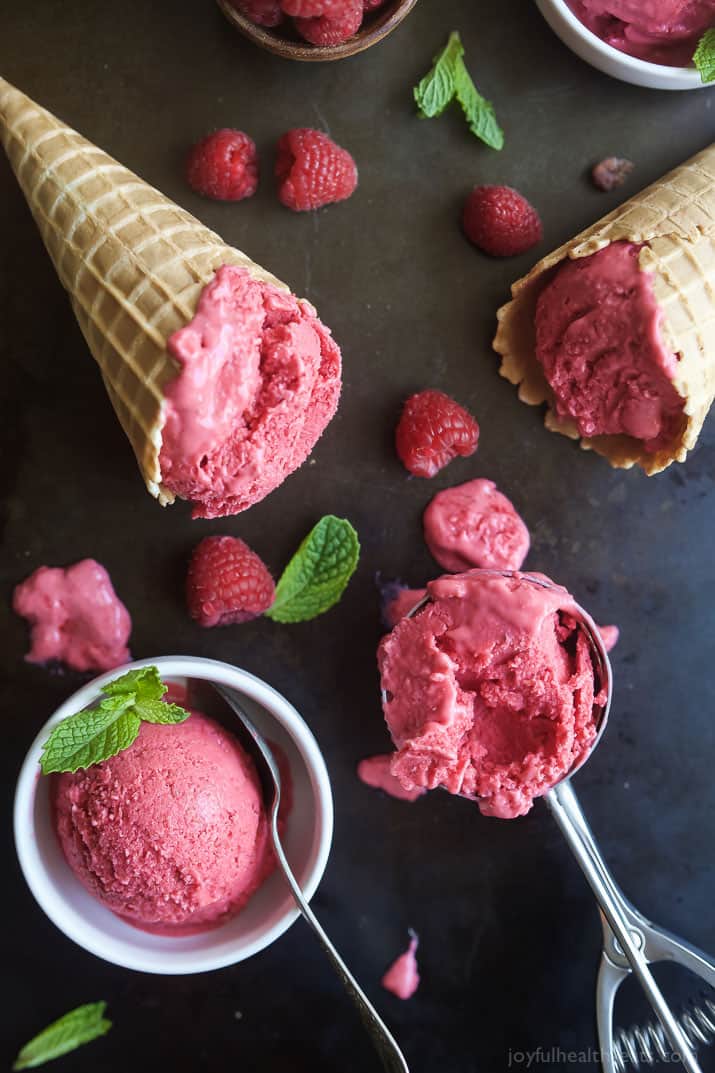 ITEMS I USED TO CREATE THIS RECIPE: (there may be some affiliate links below)
Breville Food Processor – this processor purees like a champ, I got it as a gift from my husband but adore it!
Ice Cream Scoop – I love the trigger release of this ice cream scoop it helps get every last bit of the ice cream out of the scoop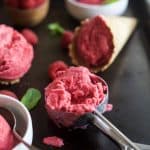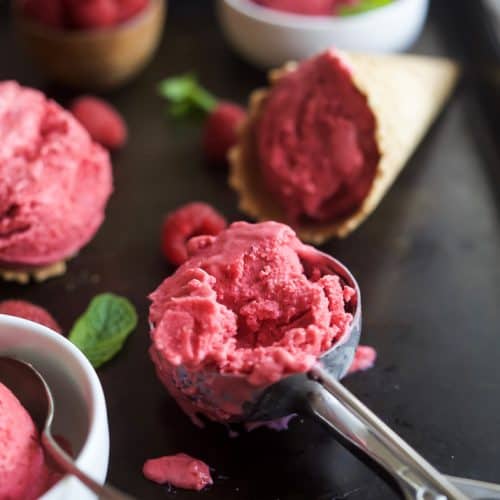 Healthy Lemon Raspberry Frozen Yogurt
Author:

 
 Cook Time: 

5 mins

 Total Time: 

5 mins

 Yield: 

4-6

 Category: 

Dessert, Kid Friendly, Gluten Free,
---
Description
5 Minute Lemon Raspberry Frozen Yogurt using only 4 ingredients – it's healthy, sweet, delicious and so easy to make! | gluten free recipes
---
Ingredients
1 cup plain greek yogurt (regular)
12 oz. frozen raspberries
1/3 cup fresh lemon juice
2 teaspoons fresh lemon zest
3 tablespoons honey
---
Instructions
To a blender add greek yogurt, raspberries, lemon juice, lemon zest, and honey.
Blend until smooth.
Serve immediately or for a more solid consistency place in an air tight container and put in freezer for 1-2 hours. Serve!
---
Nutrition
Serving Size: 

1/2 cup

Calories: 

101

Sugar: 

13 g

Sodium: 

24 mg

Fat: 

4 g

Carbohydrates: 

16 g

Fiber: 

2 g

Protein: 

2 g

Cholesterol: 

10 mg