Pork chops get a bad rap because most pork chop recipes result in dry, tough, hockey-puck-like pieces of meat that no one gets excited about. But these Glazed Pork Chops are different. They're tender, juicy, and done in just a few minutes, which makes them perfect for weeknight dinners. What's the secret? Cooking fast and coating the pork chops in a smoky, spicy, sugar glaze, which helps hold in the moisture. So you can stop looking. You've found the last pork chop recipe you'll need!

GLAZED PORK CHOPS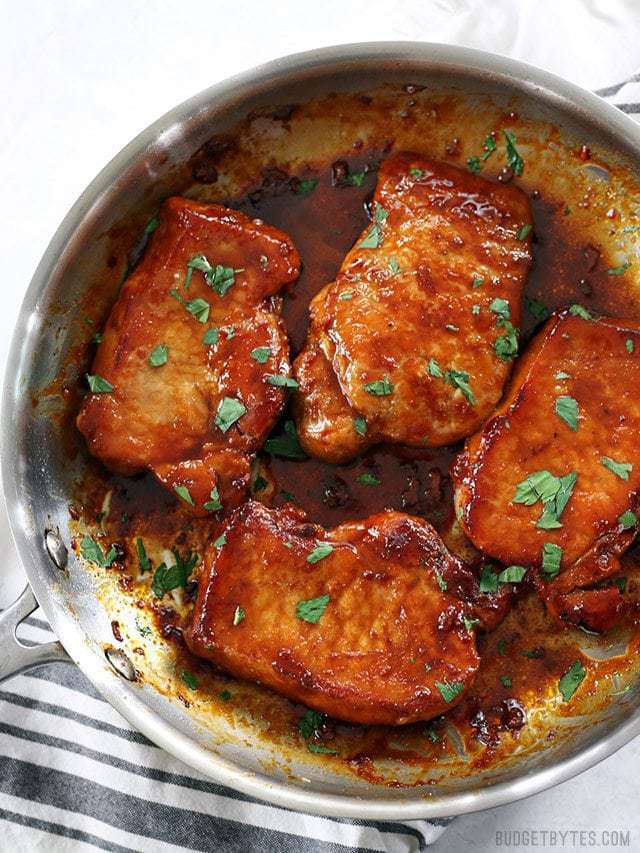 IT'S ALL ABOUT THE RUB…
For these glazed pork chops, I made a basic rub out of brown sugar, garlic, paprika, cayenne, black pepper, and a little salt for good measure. This rub is super easy, FULL of flavor, and naturally creates a sticky sweet glaze in the pan. This awesome rub works equally as well on chicken!
WHAT IS THE BEST PORK CUT?
I find this recipe works best with center cut boneless pork chops that are between 1/2 to 1-inch thick. Thin cut pork chops will cook too quickly and will likely dry out. Bone-in pork chops take much longer to cook, and the glaze may burn by the time the chops cook through. So, stick to center cut boneless for best results!
SEE THIS PORK CHOP RECIPE IN ACTION:
These Glazed Pork Chops are the easiest and juiciest pork chops you'll ever make! Great for last minute dinners!
GLAZED PORK CHOPS
These juicy Glazed Pork Chops are sweet, salty, and a little spicy. The sugar glaze helps keep the chops moist and tender!
INGREDIENTS
1/4

 

cup

 

brown sugar 

$0.12

1/2

 

tsp

 

cayenne powder 

$0.05

1/2

 

tsp

 

garlic powder 

$0.05

1/2

 

tsp

 

paprika 

$0.05

1/2

 

tsp

 

salt 

$0.05

1/4

 

tsp

 

black pepper 

$0.05

2

 

Tbsp

 

olive oil 

$0.32

4

 

thick cut boneless pork chops 

$5.97
INSTRUCTIONS
Preheat the oven to 350ºF. In a small bowl, combine the brown sugar, cayenne pepper, garlic powder, paprika, salt, and black pepper.

Remove the pork chops from their package and rub the seasoning mixture over all sides of each chop. The moisture from the meat will help the seasoning to adhere to the surface.

Heat olive oil in a large, oven­-safe skillet over a medium flame. When the oil begins to shimmer, add the pork chops. Cook the chops for about 5 minutes on each side, until nicely browned.

If your chops are greater than one-inch thick, transfer the skillet to the preheated oven for another 5­-10 minutes to finish cooking. Test the chops with a meat thermometer to make sure the internal temperature has reached 145ºF. Cook longer if needed.

Dredge the chops through the thick sauce in the bottom of the pan just before serving.
RECIPE VIDEO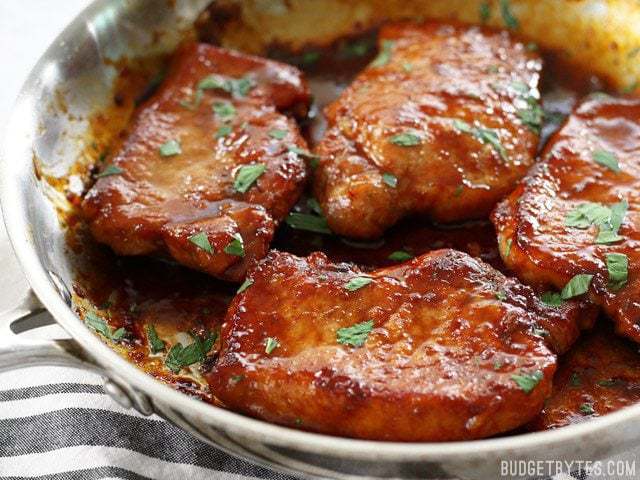 STEP BY STEP PHOTOS

In a small bowl stir together 1/4 cup brown sugar, 1/2 tsp cayenne pepper, 1/2 tsp garlic powder, 1/2 tsp paprika, 1/2 tsp salt, and some freshly cracked pepper.

Rub the spice mix over both sides of four thick-cut boneless pork chops. The moisture from the meat will dissolve the sugar and help the spices adhere to the surface.

Heat 2 Tbsp olive oil in a skillet over medium heat until the oil is shimmering. Place the chops in the pan and cook on each side for about 5 minutes or until browned.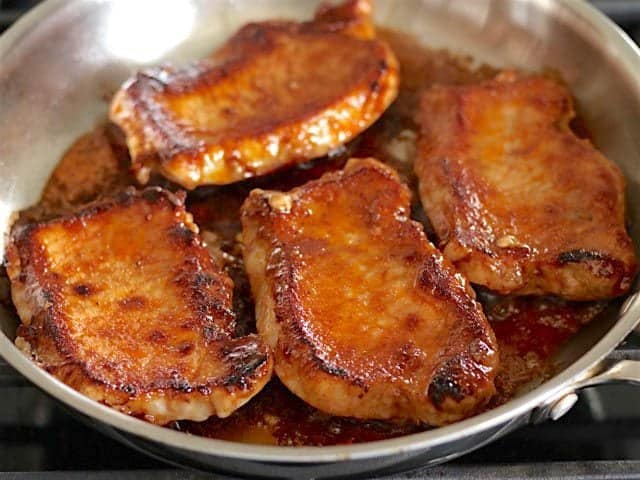 Depending on the thickness of the chops, you may need to transfer the skillet to the oven (only if using an oven-safe skillet) to finish cooking. These chops were about an inch thick and were cooked through once browned on both sides. Any thicker and you may need to finish in a 350 degree oven for 5-10 minutes to make sure the internal temperature reaches 145 degrees Fahrenheit.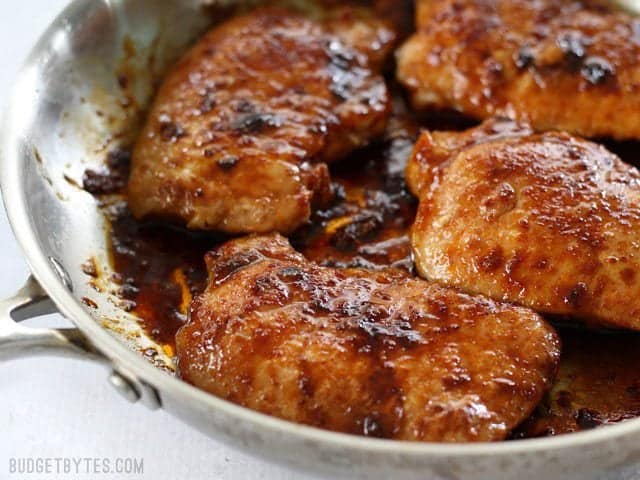 Dredge the chops in the glaze that has formed in the skillet before serving. You can also tilt the skillet and scoop it up with a spoon, then drizzle it over the chops.
??? These glazed pork chops have me mesmerized!
I added a little chopped parsley just for kicks (or color, actually), but it's not necessary.