It doesn't have to be Christmas to make these fabulous unicorn glitter ornaments. Yes, these will totally add a lot of colorful cheer and happiness to your tree, but it's more than just for that. You can make these unicorn glitter ornaments and hang them in front of a window to capture the sun's rays and sparkle around a room, or hang them from the ceiling or on a wall.
These unicorn glitter ornaments just make me so happy, and they'll be sure to make you and other unicorn enthusiasts happy, too!
Watch the video below to see how to easily glitter ornaments and make these magical DIY unicorn ornaments!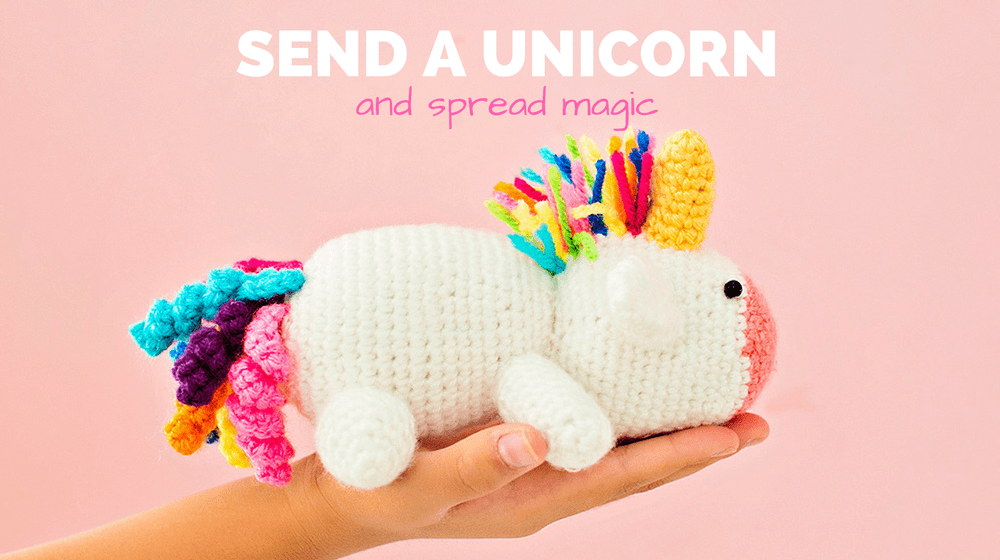 You're definitely going to love how easy they are to make, and you'll little one is going to love help making them.
If you want more amazingly fun ideas, then be sure to checkout my Cute Unicorn Crafts for Kids. You'll want to make them all!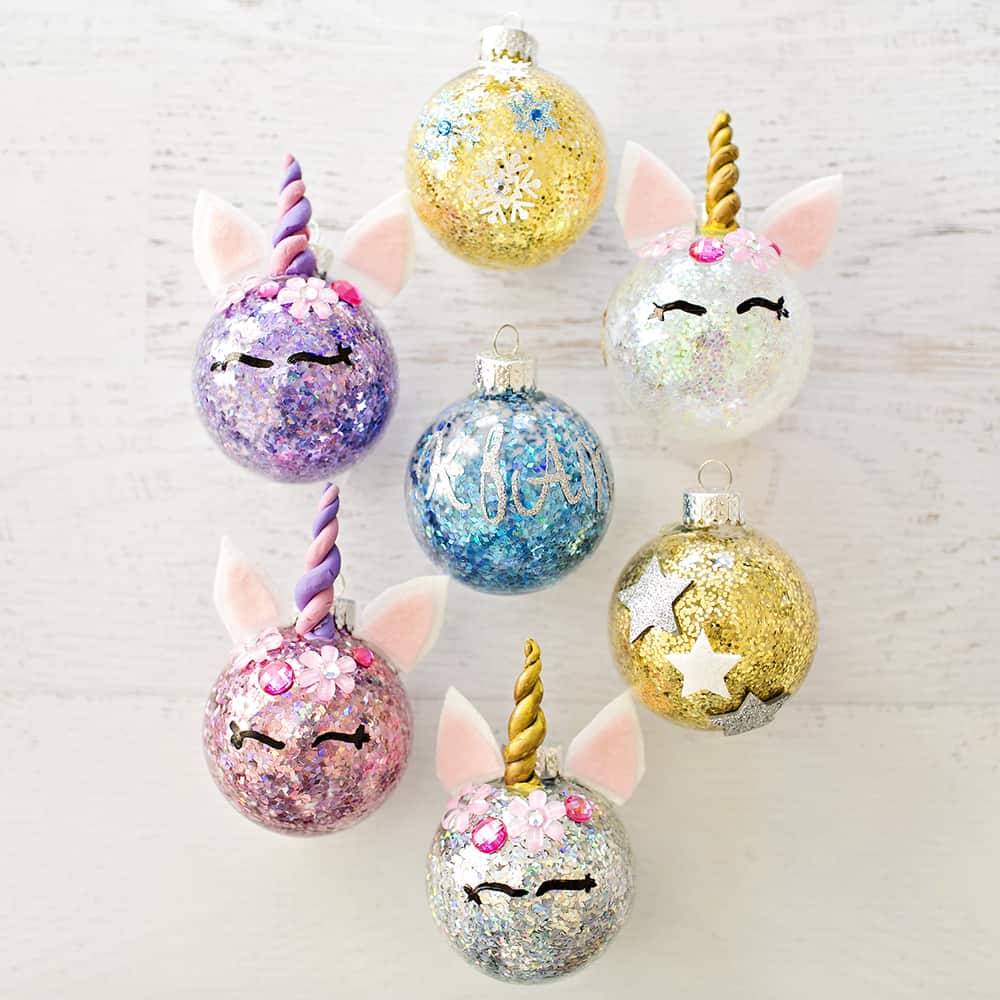 It seems to be raining unicorns lately. From unicorn food to unicorn pinatas, unicorn costumes, and unicorn tees, there's no shortage of fun featuring this magical creature.
With the Christmas Holidays coming up, we wanted to try making our own glittery unicorn ornaments.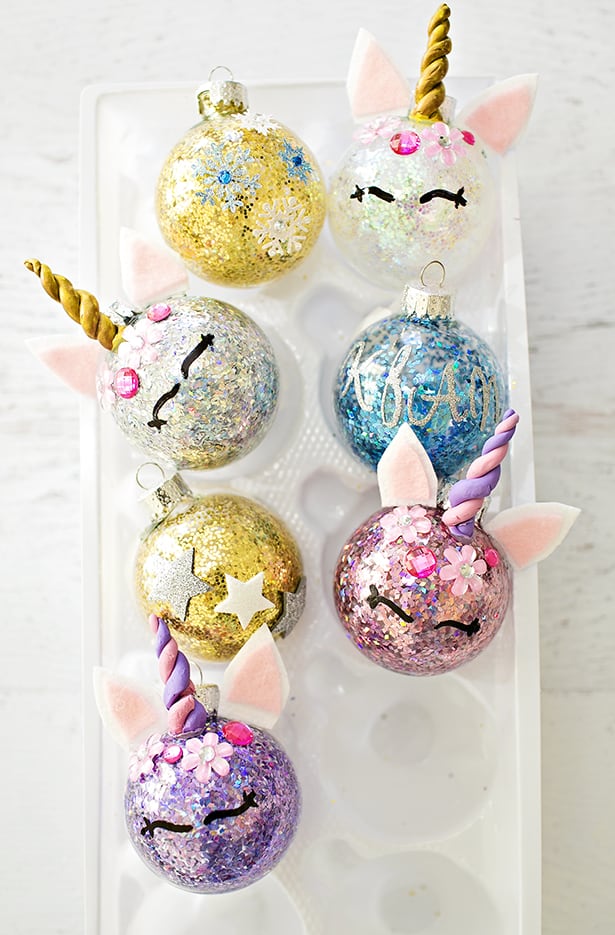 Have you tried glittering ornaments before? It's surprising simple. Many tutorials can be found all over Pinterest, we made some a couple of years ago, and it's now a pretty well-known DIY using a common home cleaning supply (see below to see what it is).
To keep the unicorn ornaments simple (so that even kids can make them) we simply used craft clay for the horn and stickers for the flowers; and just a marker for the face.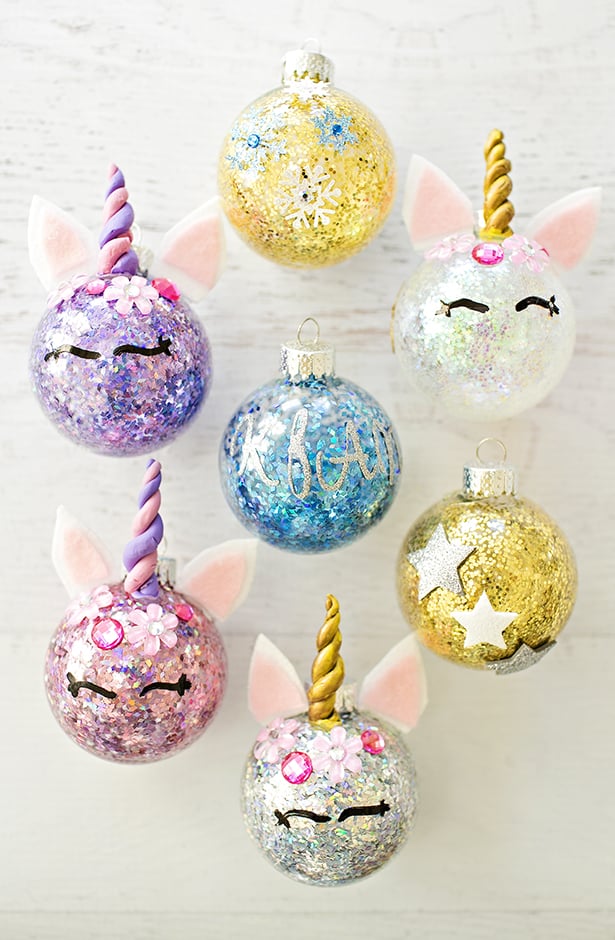 We also show you 3 other ways to jazz up your glitter ornaments by adding names on the back, and adding stickers like stars and snowflakes, that fit in with the winter holiday theme!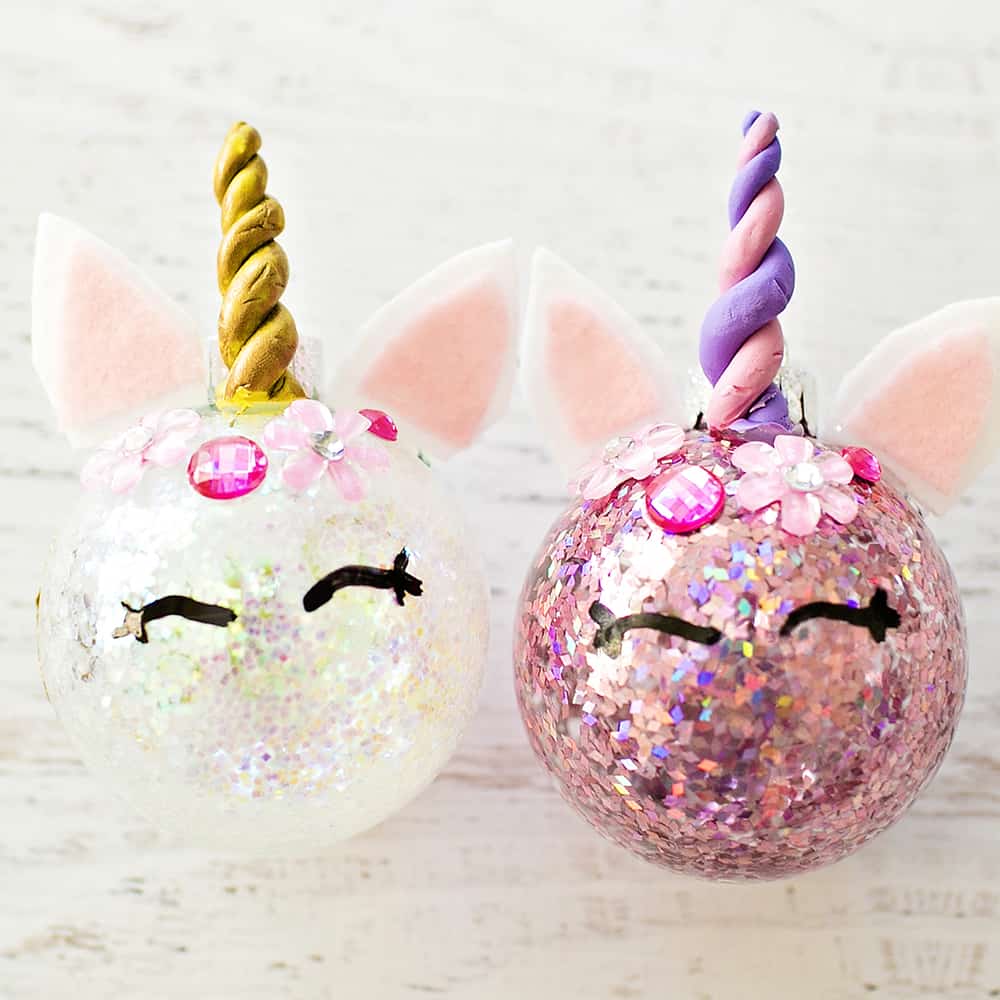 DIY Glitter Unicorn Ornaments – Materials:
– Clear ball ornaments
– Glitter
– Floor Cleaner
– Craft Clay
– Black Paint Marker
– Stickers Flowers
– Sticker Letters
– Stiff White Felt and Pink felt
– Glue gun
– Optional – Sticker Stars, Snowflakes
– It also helps to have parchment paper, and two small funnels to keep the mess to a minimum.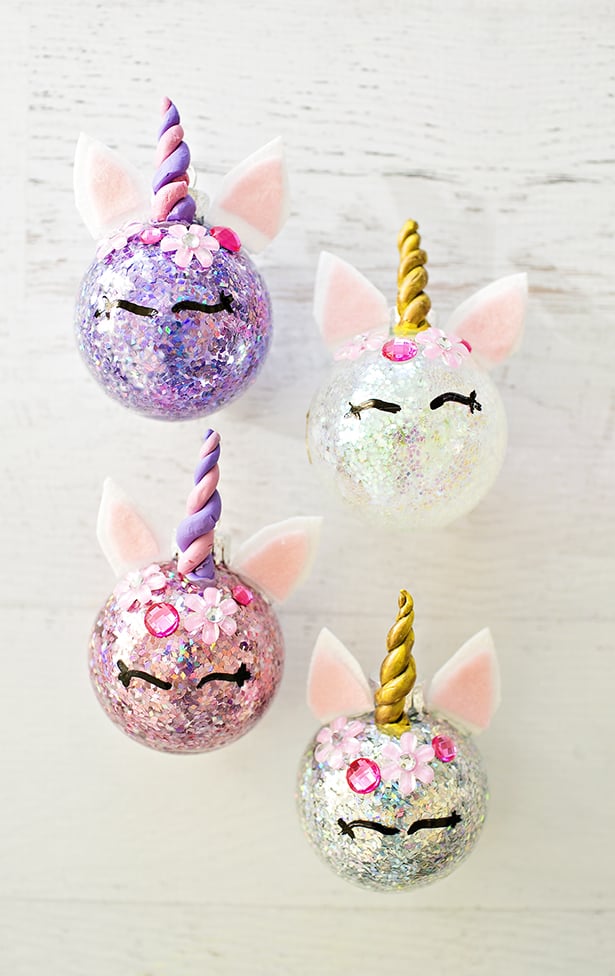 DIY Glitter Unicorn Ornaments – Instructions:
(Watch the video above for the full DIY or follow below)
To Glitter Ornaments:
– Lay parchment paper down on your table.
– Remove the ornament hook, add some floor cleaner via a small funnel inside your ornament. Swirl to coat evenly.
– Shake glitter inside your ornament, all round, and tap out excess.
– Using parchment paper to catch the extra glitter is helpful because then you can add it back into the glitter jar using another small funnel.
To Make the Unicorn Glitter Ornaments:
– Roll the clay into two strips with your hands and twirl into a horn. We used colored clay and also used yellow clay we painted gold. Snip off the lenght of the horn size you need. Allow to dry overnight.
– Glue the horn to the top of the ornament (you can use regular or hot glue). Add sticker flowers. Draw eyes using a black paint marker.
– Cut out ears from white stiff felt and also the inside pink felt. Hot glue to the top of the ornament.
– Add sticker letters to the back to personalize your unicorn ornaments.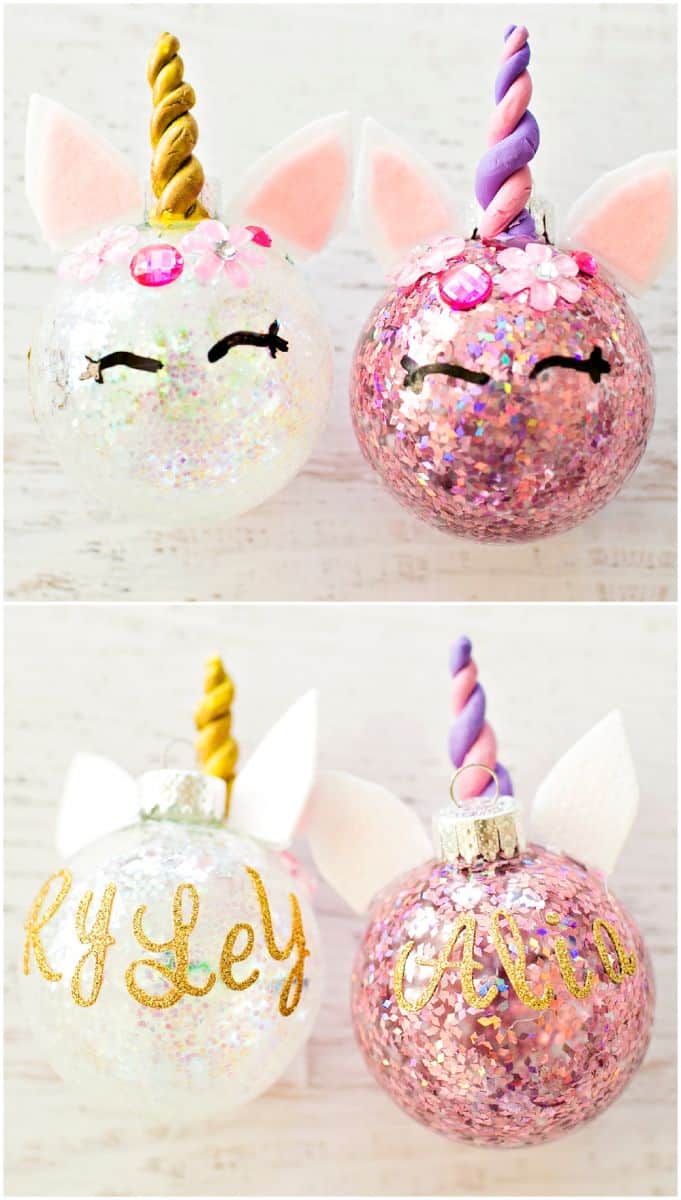 Other ways to decorate your glitter ornaments:
– You can simply just add a name using sticker letters
– Or add sticker stars or snowflakes – this is fun and easy for kids!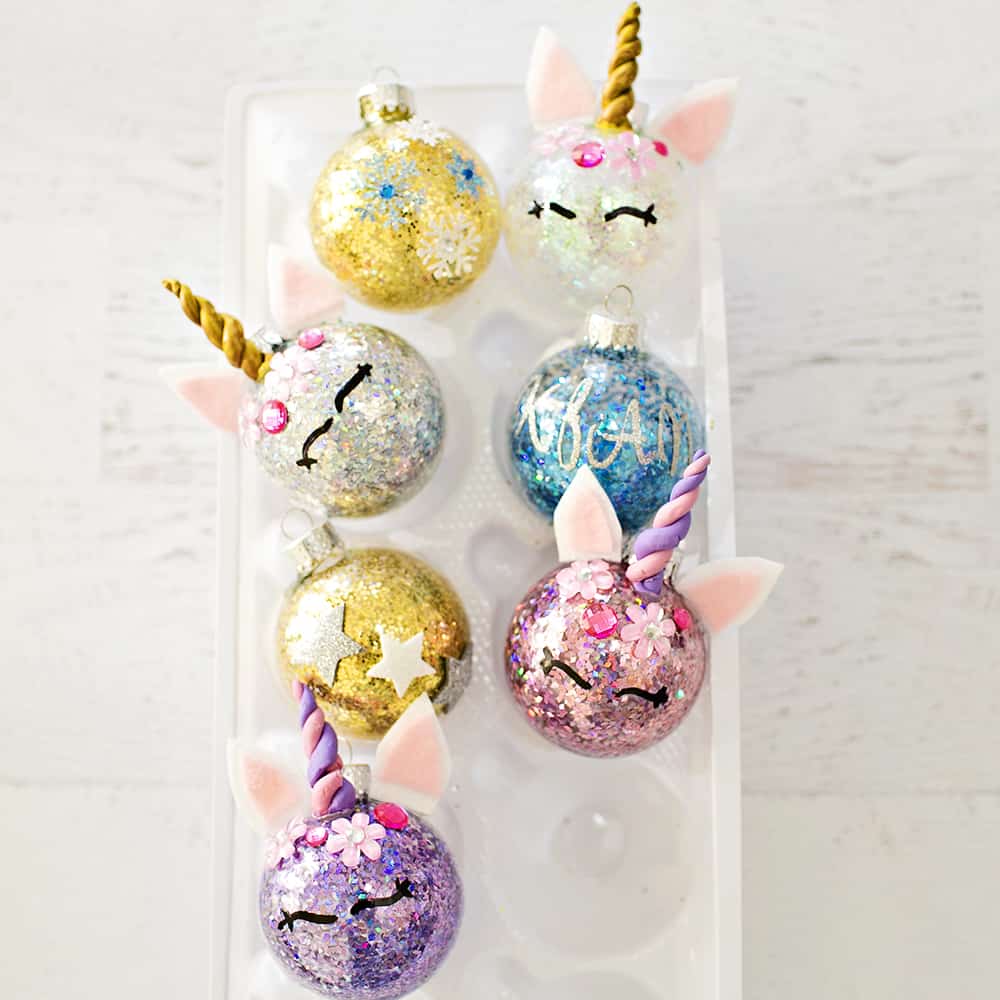 Have you ever tried making glitter ornaments? So many fun ways to decorate them! Let us know if you try it out!