Rich and creamy dairy-free fudgsicles made with avocado, coconut milk, raw cacao powder, and pure maple syrup. This low-fuss dessert recipe only takes a few minutes to prepare in your blender and is the perfect no-cook treat for summer.
This post is sponsored by the California Avocado Commission.
I'm assuming it's the same in your part of the country, but it has been toastaaay here in Reno land, which from a consumables standpoint makes me crave only a few basic goods: white wine, goody-filled salads, and cold treats.
Because my love for chocolate knows no bounds, and I've loved the classic fudgesicles (Fudgsicles? Fudge Popsicles? Same thing, different name) since childhood,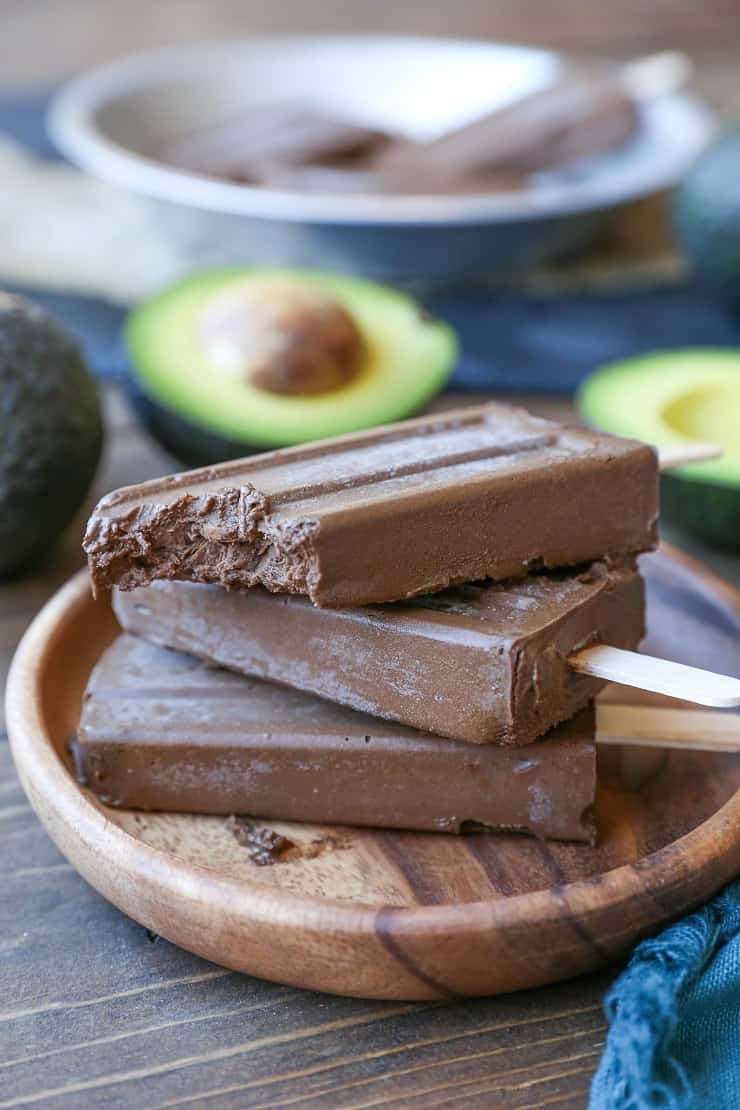 I whipped up this healthier version last week. Lemme just tell you: ooh ee ooh ah ah ting tang walla walla bing bang, they're awesome!
A spin off my ol' 4-Ingredient Chocolate Mousse recipe, these fudgesicles are made with California avocados for the silkiest, richest, creamiest experience.
All it takes is a few basic ingredients: those avocados, that coconut milk, some raw cacao powder (or cocoa powder), and a drizzle of pure maple syrup…BANG!: an American classic summer dessert to cool you off during the heat of summer.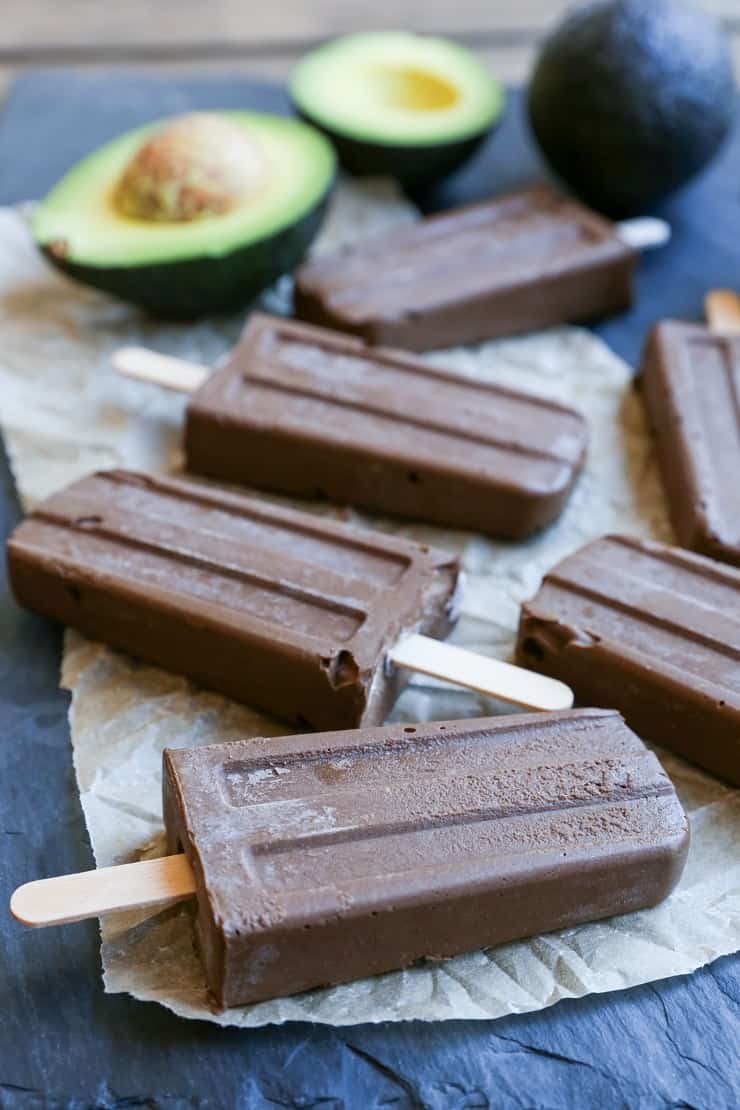 As you know, I've been partnering with the California Avocado Commission to bring you a unique avocado–infused recipe each month, and this month's theme is United Plates of America, wherein we focus on classic dishes you find from state to state. For me, there's something very iconic about frozen treats in the U.S. – the fudge popsicle being one of the oldest, most historically well-loved.
When you go to make these fudgesicles, use avocados that are nice and ripe…soft when squeezed, but not too squishy. This way, your fudgesicles will turn out super creamy and you won't even taste the avocado. On the flipside, if you use avocados that are un-ripe and still feel fairly hard, you'll likely be able to taste it.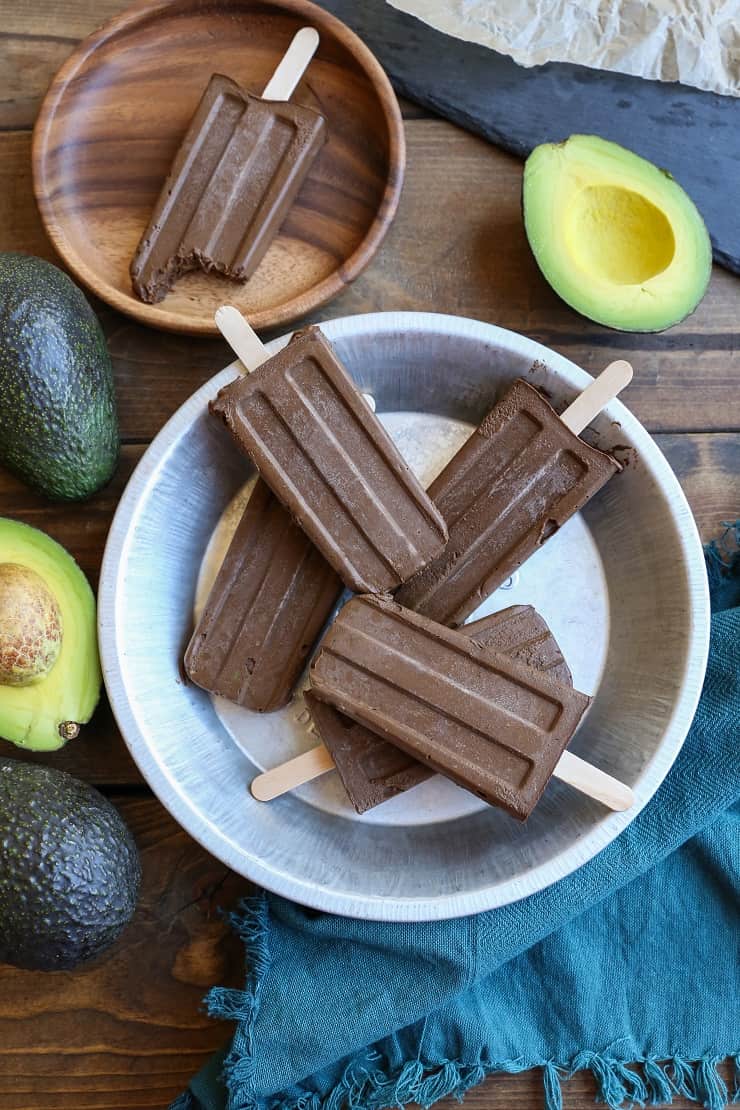 Sweetener Options:
If you prefer a liquid natural sweetener over pure maple syrup, you can go a different route! Use honey (if you aren't vegan), agave, or coconut palm syrup. To make a low-carb keto version of this recipe, you can use a powdered zero-sugar sweetener such as xylitol, erythritol, Stevia, Swerve, Monk Fruit Sweetener, etc –see the recipe notes for details!
I like using raw cacao powder because it's less processed and tastes ah-mazing, but you can definitely use your favorite unsweetened cocoa powder.
Toss it all in a food processor, give 'er a whirl until nice and creamy, transfer to your popsicle mold (this is the one I use), freeze, and wait ever-so patiently while the magic happens. The most difficult part of this recipe (butofcourse) is waiting for the fudgesicles to freeze…the rest of it is a cake walk!
Beat that heat!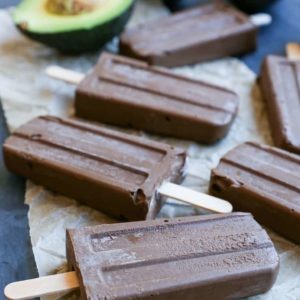 DAIRY-FREE FUDGESICLES
PRINT
INGREDIENTS
2

 

large

 

ripe California Avocados

 

peeled and diced

2/3

 

cup

 

raw cacao powder

1/2

 

cup 

pure maple syrup

 

to taste, see note*

1/2

 

cup 

full-fat canned coconut milk

1/4

 

teaspoon

 

ground cinnamon

1/2

 

teaspoon

 

pure vanilla extract

1/4

 

teaspoon 

sea salt
INSTRUCTIONS
Add the ingredients for the fudgesicles to a food processor and process until completely smooth – you may need to stop the food processor to scrape the sides with a rubber spatula a few times.

Spoon the fudgesicle mixture into your popsicle mold. Stir the mixture around in the molds and tap it gently on the counter to ensure the molds are completely filled and to avoid air pockets.

Cover the popsicle mold with its lid and insert popsicle sticks. Freeze for at least 3 hours, until completely set up.

When ready to eat, thaw the popsicles 5 to 8 minutes, or run the outside of the mold under hot water to help release the fudgesicles. Enjoy!
RECIPE NOTES
*For a no-added sugar keto version of these popsicles, omit the pure maple syrup, add 1/2 cup additional full-fat coconut milk, and 1/2 cup zero-sugar sweetener of choice, such as Stevia or Swerve.
Nutrition Facts
Dairy-Free Fudgesicles
Amount Per Serving
Calories 194
Calories from Fat 72
% Daily Value*
Total Fat 8g12%
Total Carbohydrates 28g9%
Protein 3g6%
* Percent Daily Values are based on a 2000 calorie diet.