You know those projects that make you do a little happy dance when you finish them? This is one of those! Except I would be lying to you if I didn't give my husband pretty much all of the credit here. I am super thankful that he is more than willing to help me out in some of my DIY adventures, and he never complains! At the same time I am saving us lots of money by doing knockoff projects like this one, so he really can't object, can he?! I have wanted one of these industrial, wood top coffee tables every since I saw this one in a Home Decorators catalog. Problem is, it was way out of my budget. So as any DIY'er would do, I decided to attempt to make my own! I mean, that is what I love to do best!
I have seen some of my fellow bloggers make some great knockoff versions of this table (AKA Design HERE & Thimble and Cloth HERE), so I knew it could be done nicely! I also knew I would need some assistance building it, so I recruited my husband to take a trip to our local hardware store to price materials needed. We loaded up the car, headed home and got to work!
SUPPLIES NEEDED:
(Affiliate links are provided below for your convenience.  For more information, see my full disclosure here.)
2 8ft 2×6 Prime #2 Better Douglas Fir Lumber (Planked Top)
4 8ft 2×2 Select Pine Board (Frame)
Sander
Power Drill
Polyurethane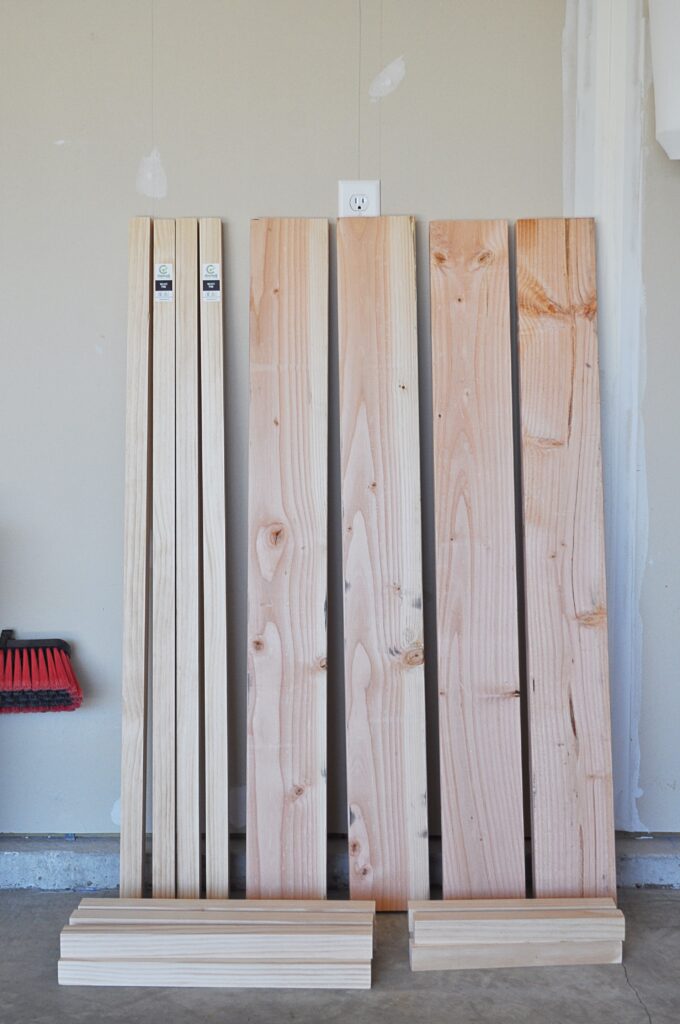 DIRECTIONS:
We took advantage of our local hardware stores cutting center, and had the 2 8ft 2×6's cut in half to give us our 4 wood planks that make up the top of the table
We also had them cut 2 of the 8ft 2×2's in half to give us our 4 48in top and bottom of frame
Once we got home we used our miter saw to make the smaller cuts: 5 of the 2×2's 20in a piece; 4 for the top and bottom sides of the frame, and 1 for the middle to support the planked table top. Also, 4 of the 2×2's 12in a piece for the legs. (All cuts pictured below)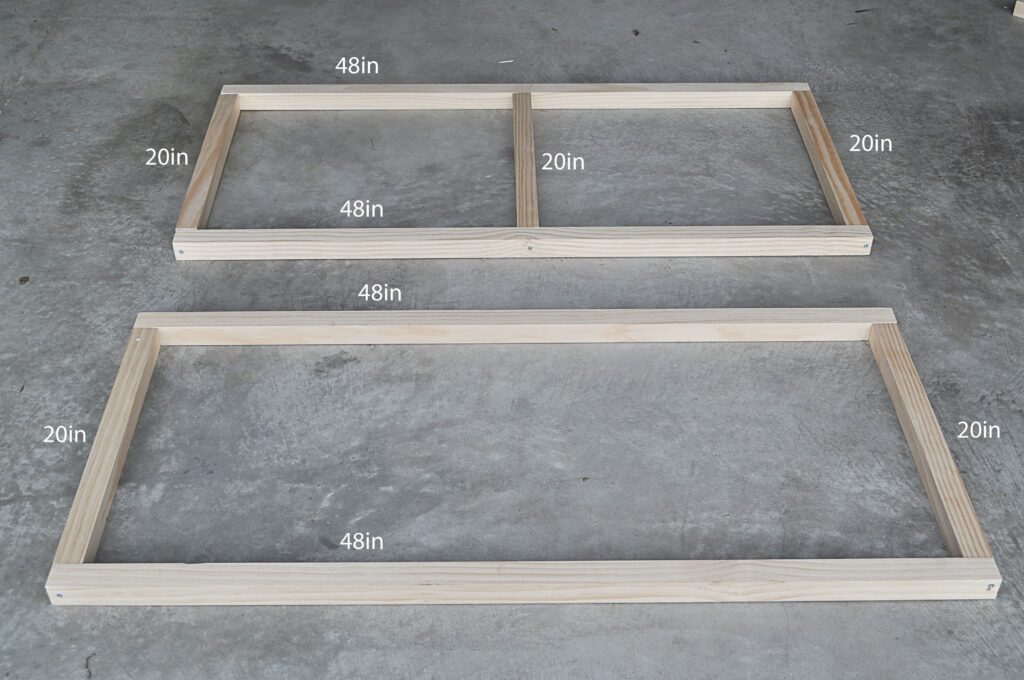 When assembling the frame, the position of the screws were kind of tricky since there were 2 2.5in screws being drilled into each of the 8 corners in very close proximity. We just made sure they wouldn't run into each other, as pictured below. 2 additional screws were used to attached the middle support piece.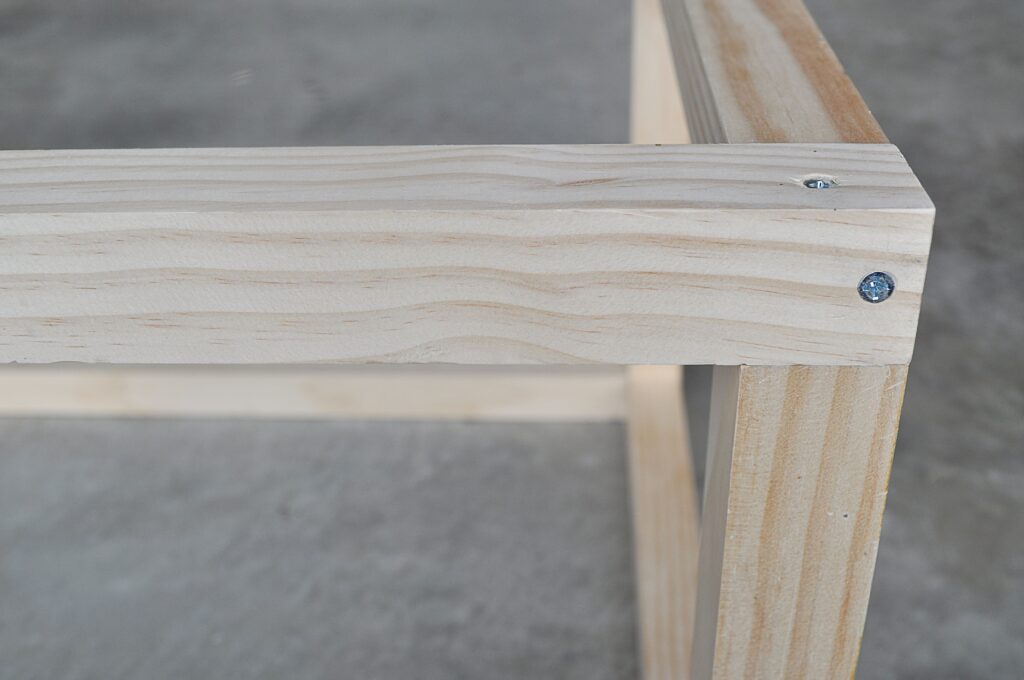 I sanded and used my favorite Dark Walnut wood stain on the planked table top. Usually this type of table has a metal frame, but since welding metal is a little out of my element (hehe), I used two coats of Ebony wood stain on the wooden legs, which actually gave it the slight metallic look I was hoping for.  I used polyurethane to seal the stains.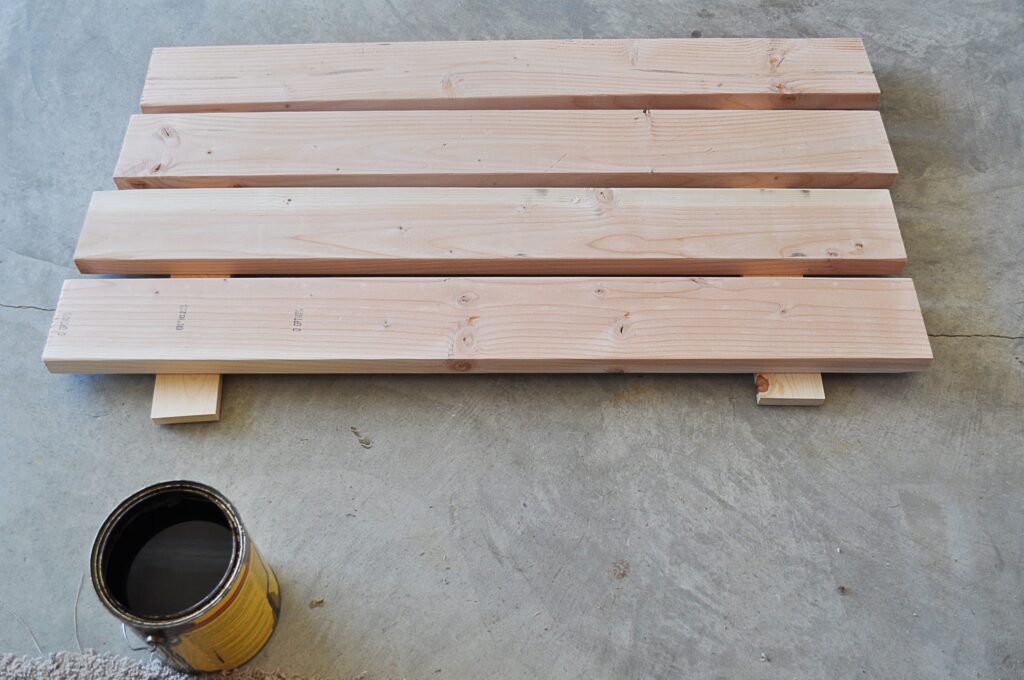 – The remaining 12 screws were used to attach the planked table top to the top 20in pieces of the frame, 3 screws per plank. We flipped the table over to complete this part from the underneath so the screws would be hidden. (NOTE: We spaced out the planks a tiny bit on the top so they would be flush in width to the frame).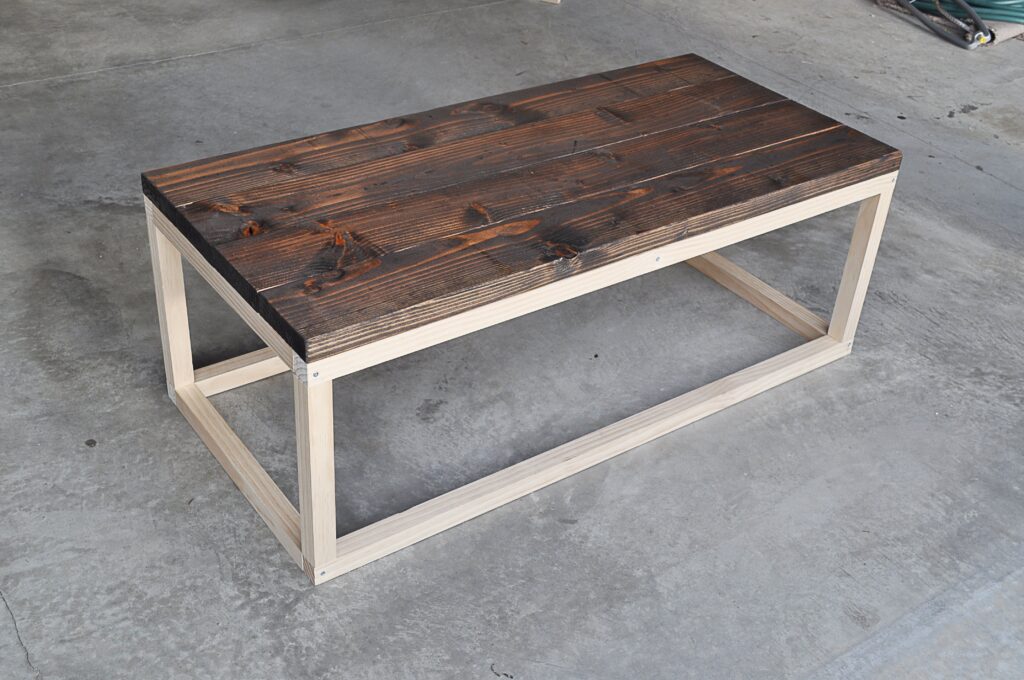 And alas! I had my very own Industrial Coffee Table! Do you want to know the BEST part??? This project costs under $75.00!!! Ummm…yes please! I'll take that amount over an expensive table any day. This was a huge win in budget decorating! And how great does it look in our living room?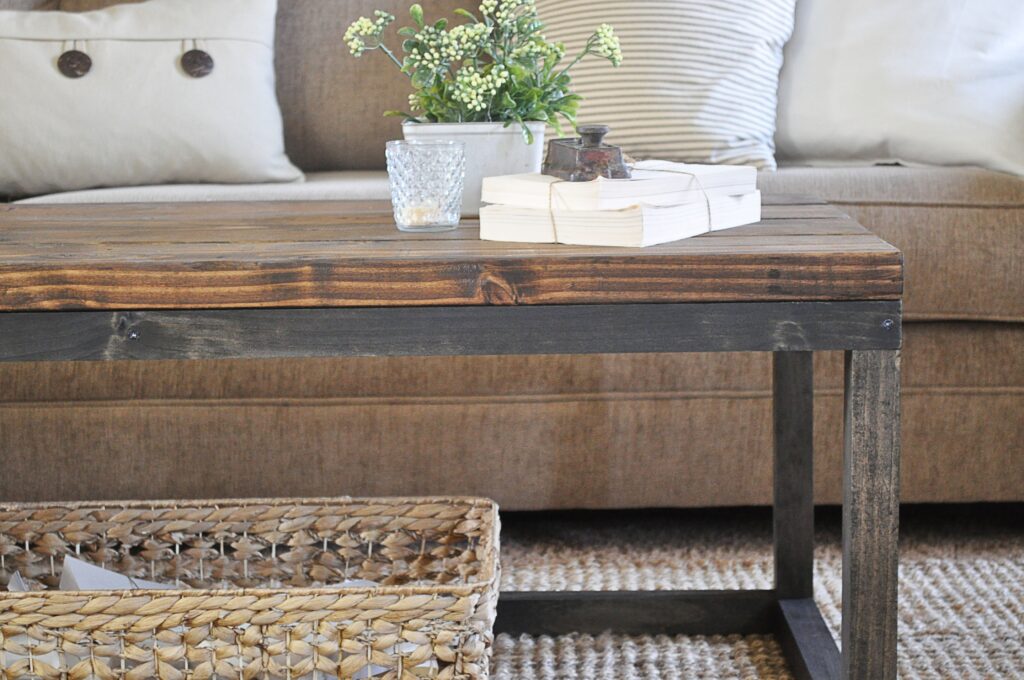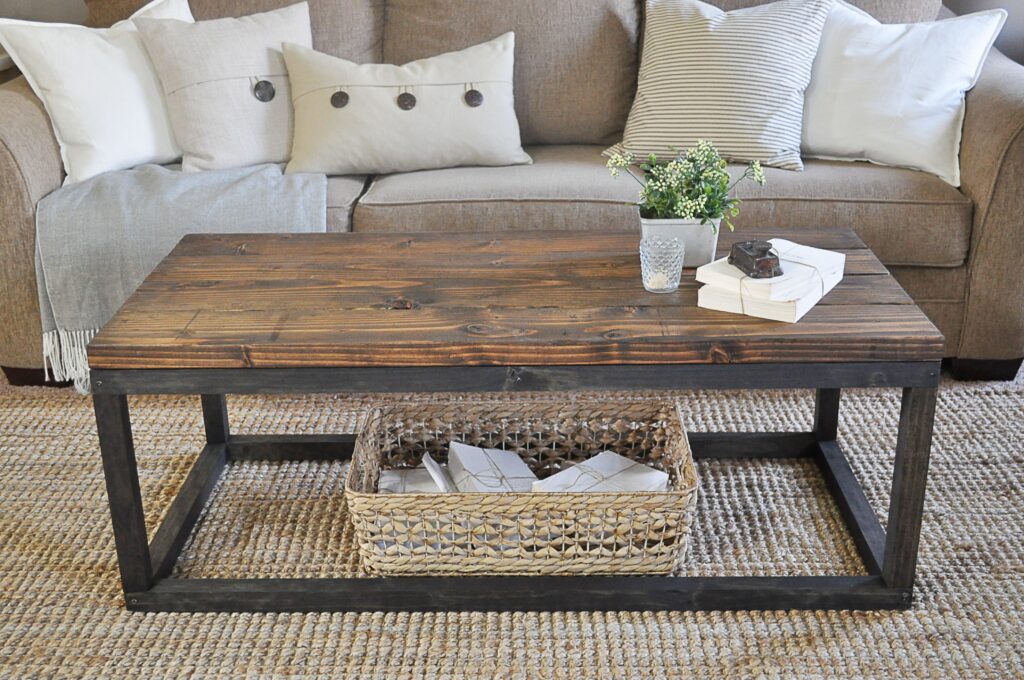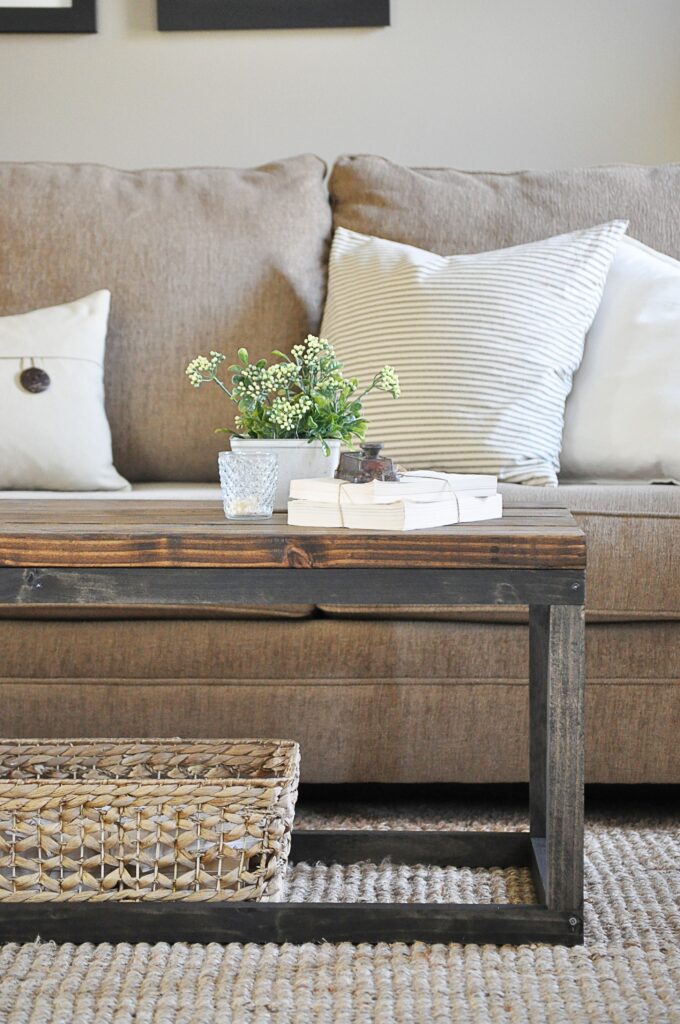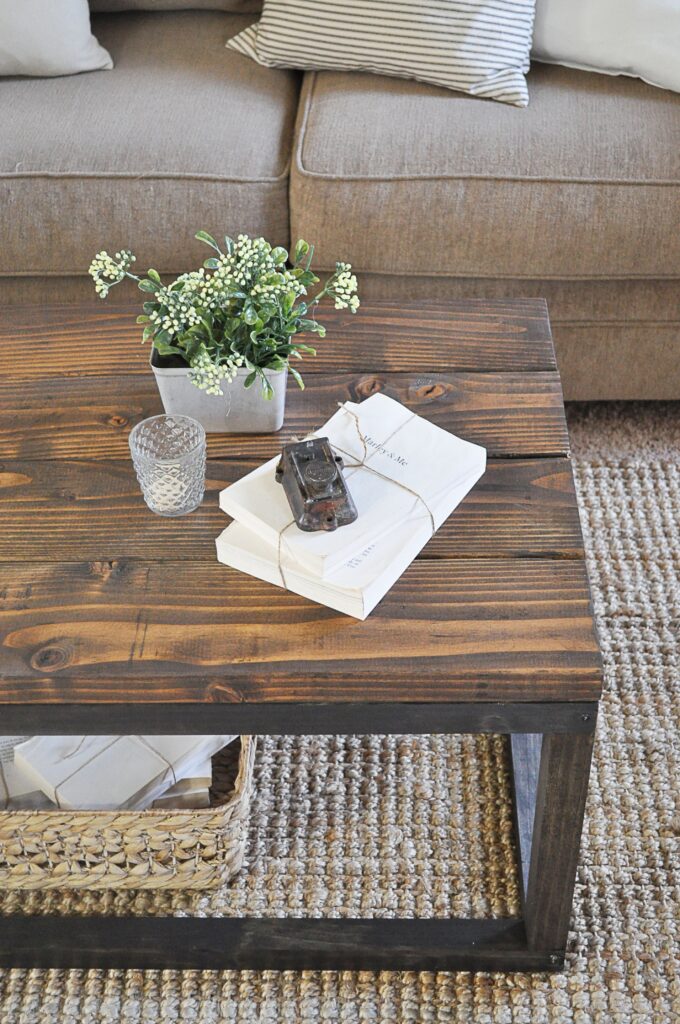 Big thanks to the hubby for all his hard work on this one! I am now debating matching side tables….