These avocado egg rolls are fried to crispy perfection and served with a tasty sweet chili sauce. This recipe is vegetarian and a crowd favorite for party appetizers.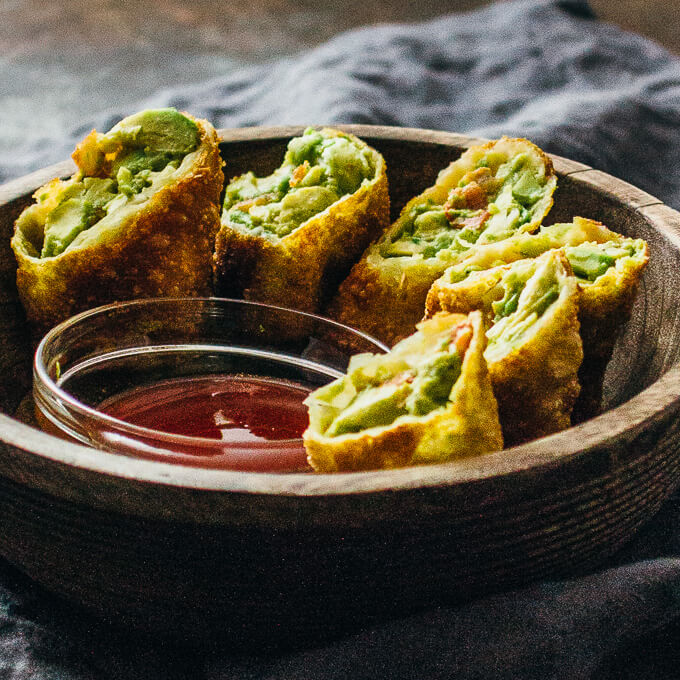 Every time I visit the Cheesecake Factory, I always order their avocado egg rolls as an appetizer. It's crazy good and I can't get enough of it. I've also ordered their egg roll sampler, which consists of tex-mex, crispy cuban, firecracker salmon, and of course avocado egg rolls.
This recipe is my recreation of their avocado egg rolls using as few ingredients as possible; all you need are egg roll wrappers, avocados, tomato, and oil for frying. I've also included one of my favorite sauces to date: a red sriracha-based dipping sauce that's both spicy and sweet with a sticky texture.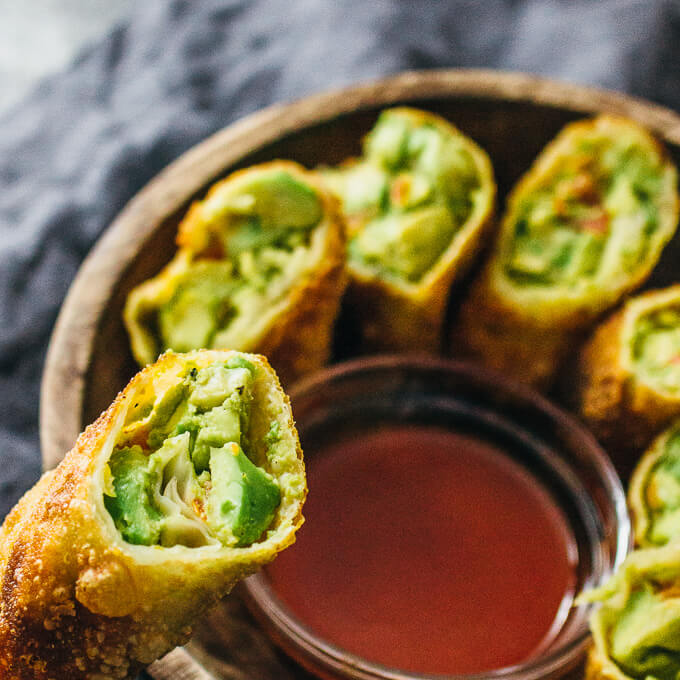 When I first started making avocado egg rolls, I really wanted to cook them any other way than frying. I tried baking them, and they tasted terrible and did not even come close to fried egg rolls. There's really no substitute for frying. To be exact, I deep fry the egg rolls, which means that the egg rolls are submerged in hot oil in a large stovetop pot.
To gauge how much oil to add to your pot, you'll want to pour in oil until it's about 2 inches deep. The oil is ready for frying when it has reached 350 F. Note that the oil does not boil when it has reached temperature, so you'll definitely need a thermometer. When the egg rolls have been added to the hot oil, they should be submerged but not touching the bottom of the pot. I fry them in batches of about 3-5 egg rolls at a time, and for this recipe, I used a 3 quart pot.
You can find egg roll wrappers at most large supermarkets. They're stocked in a refrigerated section, typically near items like tofu. Check the label so that you don't accidentally buy wonton wrappers, which are different from egg roll wrappers.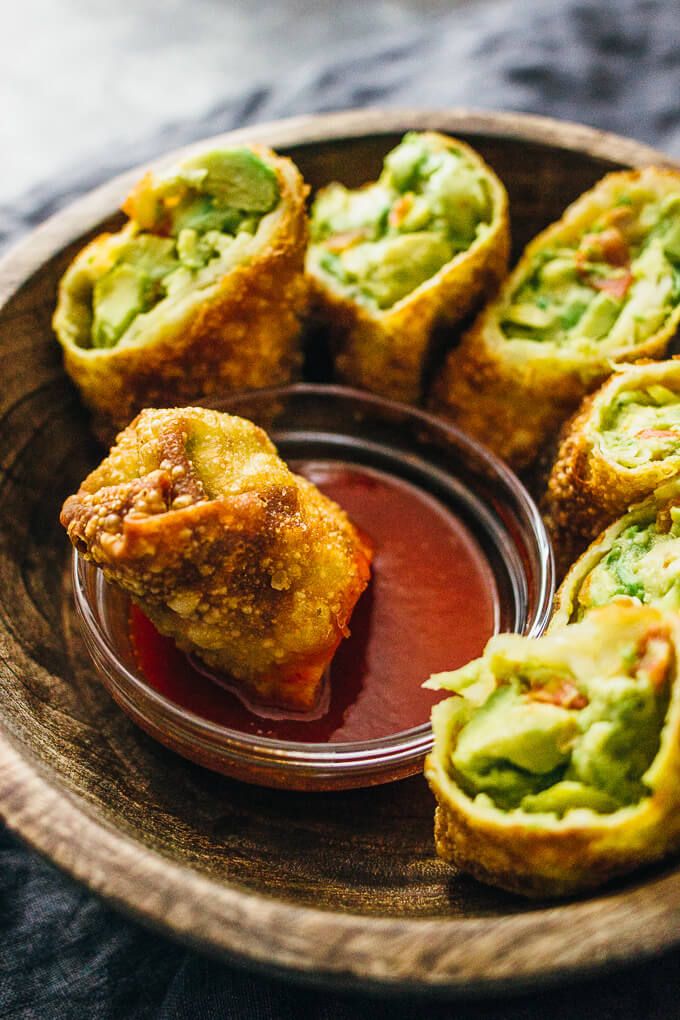 The avocado egg rolls by themselves have delicious texture (think fried crunchiness with soft avocado), but are rather plain in taste. That's where this sweet chili sauce comes in. Its taste is sweet at first, followed by a mild spicy tone. It pairs amazingly well with avocado egg rolls and ranks high on my list of favorite homemade dipping sauces.
It's also a little sticky so the sauce actually sticks and stays on to the egg rolls after dipping. It's a pet peeve of mine when I encounter a tasty dipping sauce that is so thin and watery that it drips right off my dipping vehicle, which defeats the whole purpose.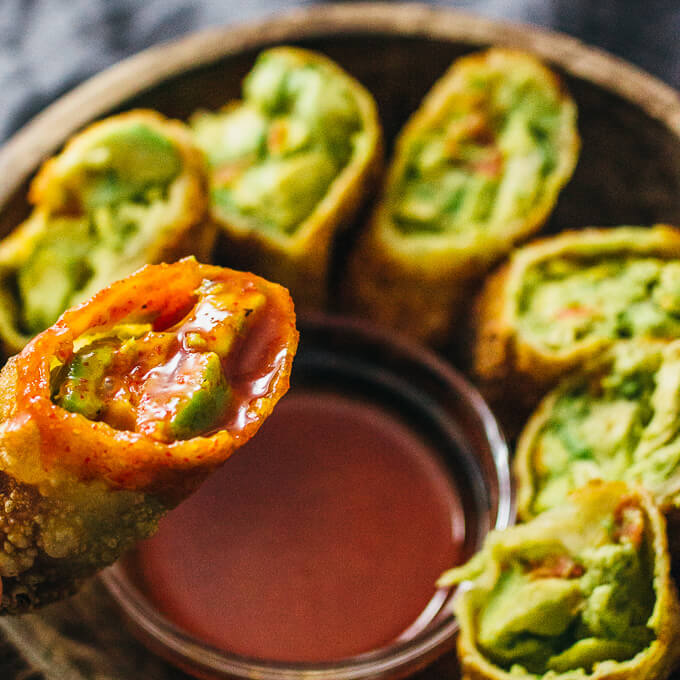 Avocado Egg Rolls With Sweet Chili Sauce
These avocado egg rolls are fried to crispy perfection and served with a tasty sweet chili sauce. This recipe is vegetarian and a crowd favorite for party appetizers.
Ingredients
10

 

egg roll wrappers

3

 

avocados

 

peeled and pitted

1

 

roma tomato

 

diced

1/2

 

teaspoon

 

salt

1/4

 

teaspoon

 

pepper

canola oil 

for frying
For the sweet chili sauce:
Instructions
Add avocados, tomato, salt, and pepper to a mixing bowl. Mash the avocados to a chunky consistency and stir to combine the ingredients. This will become the egg roll filling.

Lay out the egg roll wrappers and a small bowl of water. Distribute the egg roll filling among the wrappers, scooping them onto the bottom third of each wrapper. Taking one wrapper at a time, use a finger to brush water along its four edges. Fold up a corner over the filling, then the sides, and then roll it up. Dab the last fold with more water to seal. Repeat for all other wrappers.

Add canola oil to a large pot until the oil is about 2 inches deep. Turn the burner to medium heat. When the oil temperature reaches 350 F, add the egg rolls in batches. Cook until golden brown, about 3 minutes. Transfer to a paper towel to drain. Slice each egg roll diagonally.

Combine sauce ingredients in a small bowl. Mix well. Serve with sliced avocado egg rolls.