Satisfy your craving for crafting with this awesome selection of easy and creative DIY Christmas ornaments sure to make your Christmas tree stand out this year!
DIY Christmas Ornaments to Decorate Your Tree With
1. Let it Snow – Scrabble Tile Ornament
Scrabble tiles take on new life in this simple and adorable Christmas tree ornament. If you love Scrabble tiles, then this ornament is perfect for you.
2. Mason Jar Lid Tree Ornaments
Just another reason to love mason jars! All you need is a glue gun, some fabric scraps, and some mason jar lids. And in just a few minutes, you'll have some fantastic mason jar lid ornaments for your tree.
3. Kate Spade-Inspired DIY Christmas Ornaments
All you need is gold glitter spray paint and tape and you're pretty much set. These DIY Christmas ornaments would look so lovely on your Christmas tree. They even make a wonderful gift for your friends!
4. Hot Cocoa Mix DIY Ornaments
Thrifty, easy, and delicious? I'm in love! A perfect gift for anyone who adores chocolate. And once the hot chocolate is consumed, the receiver is left with a cute little ornament.
5. Melted Crayon DIY Christmas Ornaments
Apparently, crayons make great festive decor. Want colorful and functional creations? Let your kids fill the ornaments with crayon colors they want, while you do the melting process.
 6. Glitter Twine Ball Ornament
There's something so lovely about the simplest of materials: twine. Add some "rustic glam" to your tree with these glitter twine ball ornaments. Make a bunch and gift some to your friends, too!
7. Pen & Ink Wood Slice Christmas Ornaments
Love the rustic look? You can write different messages you want or perhaps draw a picture on it. The possibilities are endless! A set of these would make such an awesome gift!
8. Scrap Ribbon Tree DIY Ornament
A great way to upcycle scrap ribbon, and surprisingly, teach your young ones how to tie their shoes. This scrap ribbon tree ornament is gorgeously rustic, simple, and practically easy to make. They sure look pretty cute dangling from the Christmas tree.
9. Clothespin Snowflakes | Handmade Ornament
These gorgeous "snowflakes" are actually 8 clothespins hot glue-gunned together and then painted with Minwax Early American Wood Stain
. Clever and amazingly fabulous!
10. DIY Glitter Christmas Tree Ornaments
Learn how to make these eye-catching sparkly tree adornments and see how beautiful your tree becomes! These ornaments are super easy to make, you can even let the kids join in on the fun.
11. Grinch DIY Christmas Ornaments
Grinchtastic! Anyone can do this craft project inexpensively and they're super simple to make. Tip: the sky's the limit when decorating clear ornaments. If you want to make a specific character, gather materials that make sense and go for it!
12. Natural-Looking DIY Glass Ornament
Another great idea for decorating clear glass Christmas tree ornaments! All you need is some holly, wooden alphabet beads, white confetti or paper, and you're set!
13. Simple DIY Fingerprint Snowman Ornament
Perfect DIY project for you and your little ones! These simple DIY fingerprint snowman ornaments add cheerful and festive holiday trimmings to your Christmas tree.
14. DIY Christmas Yarn Ornaments
One of the easiest and thriftiest options: styrofoam balls + tacky glue + yarn +  thin wire = voila! Make these DIY Christmas yarn ornaments in different colors or add some glitter on the ornaments for more fun!
15. Easy Oversized Styrofoam Ornaments
Spray paint large styrofoam balls with red glitter and hang with wide ribbons. Gorgeous and easy! This is a great idea to decorate your Christmas tree for the holidays on a budget.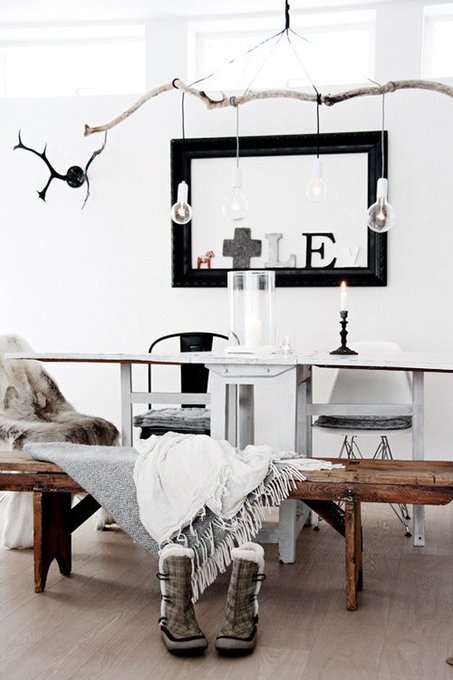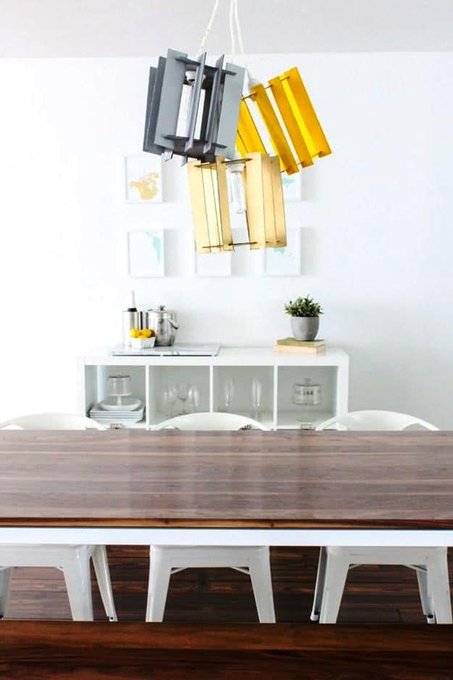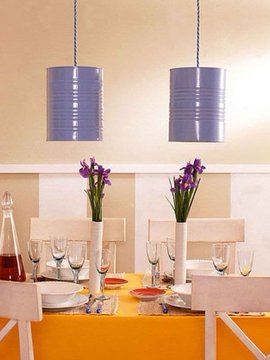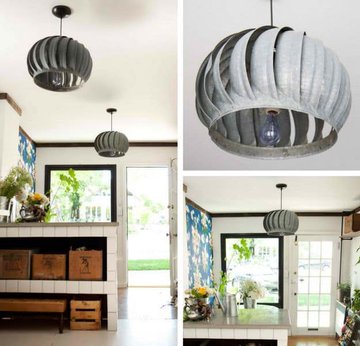 DIY Projects

@DIYProjectsCom

Pendant lights can be the perfect addition to your home!

See the 11 reasons why here: http://diyprojects.com/pendant-lighting-projects/?utm_campaign=coschedule&utm_source=twitter&utm_medium=DIYProjectsCom&utm_content=11%20DIY%20Pendant%20Lighting%20Projects …
See DIY Projects's other Tweets
Twitter Ads info and privacy
16. Clay Star DIY Christmas Ornaments
Not a master sculptor? Use cookie cutters to create perfectly symmetrical clay cutouts. All you need is some clay and a little bit of creativity to create wonderful clay ornaments.
17. Pledge Glitter Ornaments
Did you know Pledge Floor Care Wood Floor Finish can be used to make amazing glitter ornaments? This craft project is really fun, easy, and very inexpensive to make!
18. Wooden Sled Ornament
This miniature wooden sled ornament is a perfect craft project to do with the kids. They will definitely enjoy using their little hands in painting this wooden sled in different colors.
19. DIY Personalized Glitter Ornaments
Shiny gold alphabet stickers can be used to make beautiful personalized Christmas ornaments. Great gift idea! Add a little fun to your Christmas tree with these DIY personalized ornaments.
20. DIY Gold Leaf Ornament
Way too cute to pass up! These fabulous ornaments are perfect for your Christmas tree. They are even beautiful for decking the halls or as gifts for your friends.
21. Homemade Cinnamon Ornaments
Unfortunately, these homemade cinnamon ornaments are not edible — they're mainly used as ornaments. It will definitely keep your house smelling glorious this holiday season. With just a few steps and a few supplies, your Christmas tree will be a treat for the senses.
22. DIY Ammo Christmas Ornament
Got a hunter or outdoorsy man or woman in your life? This might be just for the ornament for them! What a fun and unique ornament — just so perfect on a tree.
23. DIY 'Chalkboard' Printables-Turned-Ornaments
If you love free printables as much as I do, then you are going to love these! Use these DIY chalkboard printables in so many ways – as tags on gifts, as an inexpensive gift, or to decorate your Christmas tree.
24. Yarn Wrapped DIY Christmas Ornaments
These yarn wrapped Christmas tree ornaments make the perfect craft project for your Christmas tree. This is also fun to do with the kids, as this is perfect for exercising their motor skills.
25. Felt And Pinecone DIY Owl Ornaments
These personalized owl Christmas ornaments only used pine cones and a different color combination of felt. Make these owl Christmas tree ornaments with this tutorial which comes with a felt owl ornament pattern.
26. Cupcake Christmas Tree Ornament
So cute, you just want to eat it up, right? But don't — it's made of styrofoam. This cupcake Christmas tree ornament is perfect for kids and adults alike! Just make sure to make an extra dozen to share with friends and family.
27. Easy No Sew Cloth Ornament
Make use of old T-shirts and make these easy, no-sew fabric Christmas ornaments. What an easy and inexpensive project you can make with no sewing involved!
28. Sweet Music Christmas Ornaments
Recreate these adorable Christmas ornaments from old sheet music of your choice. Looks great hanging on your Christmas tree or as a unique gift topper!
29. Paper Snowflake Christmas Ornament
A super fun and simple ornament project you'll surely love! Decorate your Christmas tree with these beautiful snowflake ornaments, made with a paper punch.
30. Glittering Popsicle Stick Christmas Trees
Grab some packs of colored popsicle sticks from the craft store or simply paint them yourself. Arrange them to form a Christmas tree, then adorn them with colorful rhinestones and a glittery star. This wonderful ornament will look perfect and sparkling hanging from your Christmas tree.
31. Kid's Fingerprint Handmade Christmas Ornaments
Make these super cute handmade Christmas ornaments stamped with your kids' fingerprints. An adorable, quick, and easy Christmas project for kids to make!
32. Handmade Paper Towel Stars Ornaments
Get yourself busy crafting this glittery star ornament made of toilet or paper roll in a few easy-to-follow steps. A very simple upcycling project with a very lovely result.
33. Photo Transfer Christmas Ornaments
Transfer adorable image onto a piece of a wood slice to make a unique keepsake. It's easy to make, so you can make enough to adorn your Christmas tree with fond memories this holiday season.
34. Mini Woodland Wreath Ornament
This mini woodland wreath ornament is both very quick and exceptionally easy to make. It looks great on your Christmas tree or used as gifts to surprise family and friends.
35. Miniature Winter Yarn Hat